Michael Novakhov's favorite articles
The transfer of our compatriots from Nagorno-Karabakh to Armenia may take place in the conditions when it is recorded that it is impossible for our compatriots to stay in Nagorno-Karabakh; that is, if this situation continues. Prime Minister Nikol Pashinyan stated this at Friday's Cabinet meeting of the Armenian government.
"We assess that this impossibility exists at the moment. If the situation does not improve, that situation will be on the agenda of all of us. But also, I want to inform that back on September 19, that is, the day of the start of [Azerbaijan's military] operations [in Nagorno-Karabakh], I gave an instruction to Deputy Prime Minister Tigran Khachatryan to discuss with his government colleagues how, where, and with what we will assist our compatriots in the event of a possible flow of people to Armenia. More than 40,000 places have been prepared; it's about places to stay, as well as simultaneously in terms of health care, food. This is an agreed position with Nagorno-Karabakh colleagues. Our Plan A is not to de-Armenianize Nagorno-Karabakh. We must do everything in our actions so that our compatriots have the chance to live in their homes without fear, with dignity," Pashinyan said.
 19:19, 21 September 2023
YEREVAN, SEPTEMBER 21, ARMENPRESS. Prime Minister Nikol Pashinyan has said that Armenia bears its share of responsibility but the failures of the Russian peacekeeping mission in Nagorno-Karabakh shouldn't be ignored.
Addressing the nation live on Thursday, PM Pashinyan commented on Russian media claims that Armenia is trying to blame Russia for its own failures.
"We are not shifting responsibility of any of our failures on anyone. There is the clear 9 November 2020 trilateral statement, by which the Lachin Corridor was supposed to be under the full control of the Russian peacekeeping contingent, the Russian peacekeeping contingent was supposed to oversee the safety of the civilian population. And we've been consistently raising this issue for over one and a half years, raising that the processes aren't proceeding in the right course. We bear our share of responsibility, but I don't think that we all should turn a blind eye on the failures that the Russian peacekeeping contingent has had in Nagorno-Karabakh," Pashinyan said, mentioning the deadly incident in 2022 when Russian peacekeepers had assured a farmer in Nagorno-Karabakh that it was safe to conduct agricultural work but the farmer was shot dead by an Azeri sniper in the presence of the peacekeepers.
"Why did this latest outbreak happen? If the peacekeepers were able to agree a ceasefire, why couldn't they do so before the attack, so that an attack on Nagorno-Karabakh wouldn't have happened? After all, we've all been warning about this, we were saying that Nagorno-Karabakh is blockaded by Azerbaijani military equipment. Why didn't this mediation take place back then? These are questions that require answers," the Armenian PM said.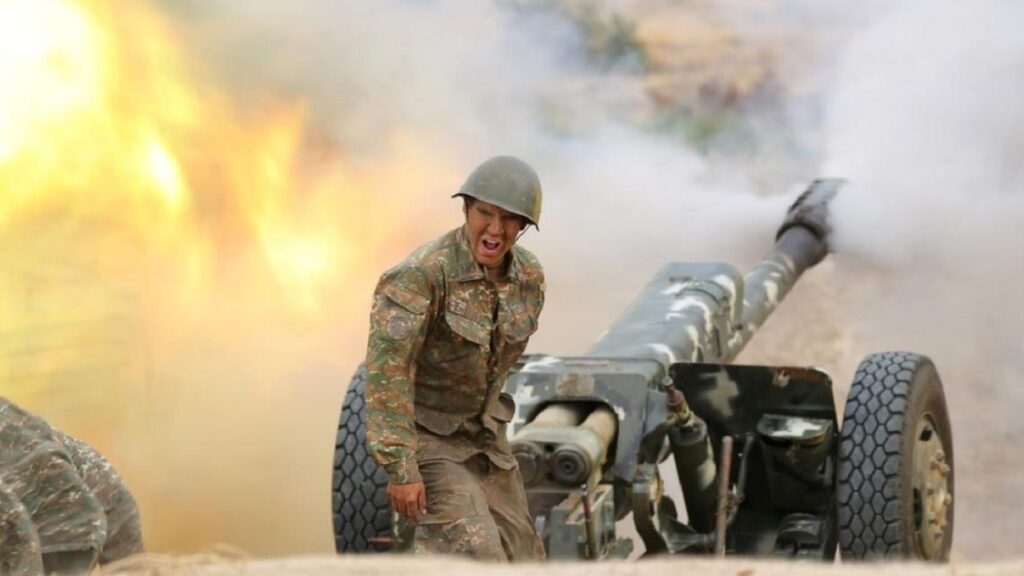 Azerbaijani President Ilham Aliyev appears to relish embarrassing the State Department.
Just weeks after the now-voided ceasefire, Aliyev castigated on live television Andrew Schofer, at the time the chief US representative on the Karabakh issue, during a Baku meeting.
Noting that Aliyev did not invite the American and French representatives, he said he would nevertheless listen on the off chance they had something worthwhile to say.
Aliyev, though, had no desire to listen to diplomats. "Azerbaijan resolved the conflict, which lasted for almost 30 years, resolved by force and political means," he said. "And I can only agree with what [Russian] president [Vladimir] Putin said, the president of the one of the co-chair countries, that Nagorno-Karabakh conflict is already in the history… Azerbaijan resolved it itself. And by defeating Armenia on the battlefield, we forced aggressor to admit its defeat, to sign declaration which we consider as an act of capitulation of Armenia."
In the three years since, he has only redoubled his contempt for American diplomacy. Testifying last week before the Senate Foreign Relations Committee, acting Assistant Secretary of State Yuri Kim declared, "We will not tolerate any attack on the people of Nagorno-Karabakh." Aliyev called her bluff and Kim, who hopes to be the next US ambassador to Turkey, showed her declaration both empty and insincere.
Selected Articles – The News And Times – 5:05 AM 9/22/2023
The News And Times Information Network – Blogs By Michael Novakhov – thenewsandtimes.blogspot.com