President Gabriel Boric's administration has announced it intends to strengthen Chile's anti-discrimination law that took effect in 2012.
Law 20,609, named after Daniel Zamudio, a gay man who was murdered in Santiago, the Chilean capital, in 2012, marked an important milestone in the fight against discrimination.
Boric's government is also reportedly going to create an equality and nondiscrimination council, which will provide an institutional framework to fight for LGBTQ and intersex people and other vulnerable groups.
According to the Movement for Homosexual Integration and Liberation (Movilh), the Latin American country's main queer organization, hate crimes doubled over the last year. And for this reason, Movilh for more than a decade has been demanding that Chilean authorities improve the Zamudio Law to prevent violence against LGBTQ and intersex people.
Last month's Pride march that Movilh organized drew more than 180,000 people who demanded improvements to the Zamudio Law.
"We are very happy that our demands were heard and that this announcement is made today in the company of Jaqueline Vera and Iván Zamudio, Daniel's mother and father," said Movilh President Gonzalo Velásquez. "We must not forget that the Anti-Discrimination Law accelerated its approval after the brutal homophobic attack that took the life of Daniel Zamudio in 2012. Along with him, 63 other people have been murdered in Chile because of their sexual orientation or gender identity. It is to them … and to so many victims of other forms of discrimination that we must dedicate this announcement of the strengthening of the law."
Since Boric since he took office in March 2022, he has commissioned the Women and Gender Equality Ministry to work with Chilean LGBTQ and intersex rights organizations to implement his campaign promises. 
State Secretariat Minister Antonia Orellana told the Washington Blade that "first I would like to highlight the work of the governmental roundtable for the rights of LGBTIQA+ people that the Ministry of Women and Gender Equality carried out together with the Sociocultural Coordination of the Presidency in 2022."
According to her, this work "is part of the actions that we have been carrying out to respond to the demands of gender diversity and dissidence gathered at the table, but above all to move towards the protection of people and respect for their identity, freedom and dignity."
"This instance not only allowed us to listen and learn about the particular needs that arise from this experience; receiving them in La Moneda (the Chilean Presidential Palace) was also a sign, a milestone and a message that is consistent with what is commemorated on Pride Day, which is the need to make this diversity visible in search of recognition and respect for the identity and dignity of people, whether they are transgender, lesbian, gay, nonbinary," said Orellana.
"Today, as the Ministry of Women and Gender Equality, we are integrating the LGBTIQA+ community from the possibilities that our institutional framework gives us today," she emphasized.  "All ministries are committed to advancing LGBTIQA+ matters and our Ministry is leading the actions that allow us to push that agenda."
Fundación Iguales Executive Director Maria José Cumplido told the Blade from Concepción that "we believe it is a very good announcement to create an anti-discrimination institution and improve the Zamudio Law. We are happy that the government has listened to us."
"With Movilh we requested many times that the Justice Ministry should host this institution through the Undersecretary of Human Rights. That is the competent state portfolio," added Cumplido.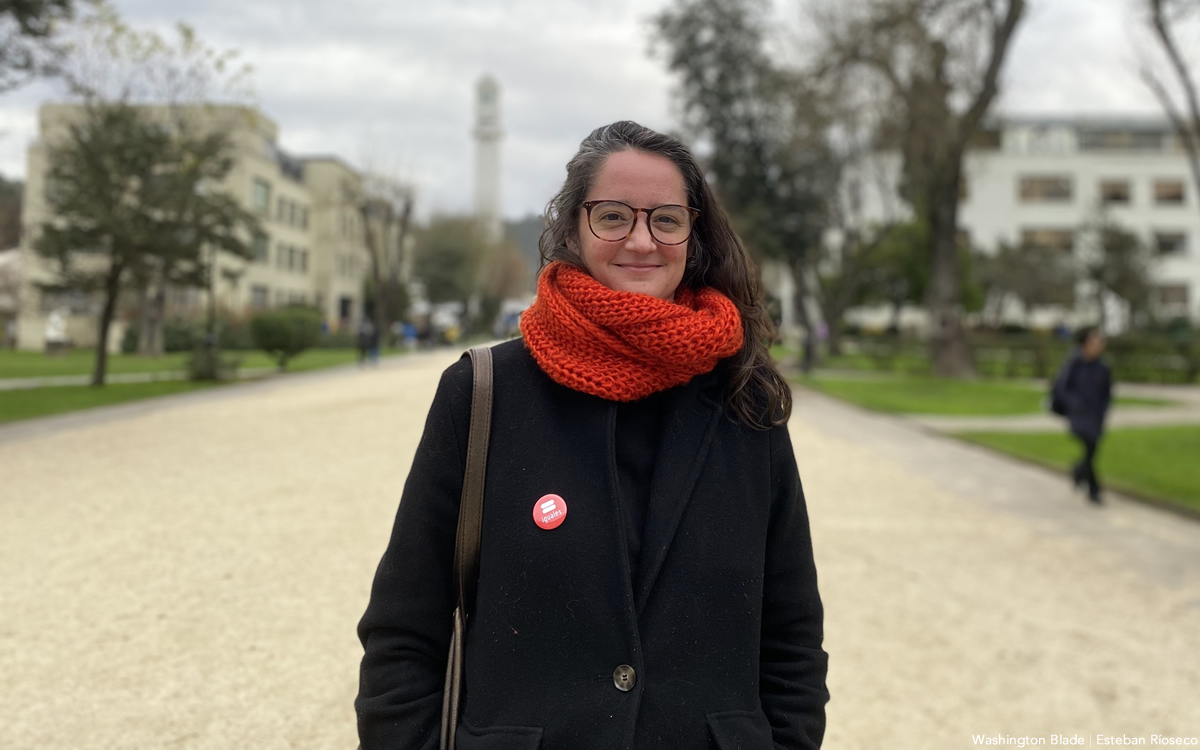 Fundación Iguales Executive Director María José Cumplido. (Washington Blade photo by Esteban Ríoseco)
Orellana further stressed to the Blade that "this new institutionalism is added to other actions that we have been carrying out as a government and that have to do with improving the daily experience of diversities and dissidences, among them the restitution of a public property in the Aysén Region to build the first House of Diversities and Dissidences, which can attend and gather people from the community." She said it will also include "the incorporation of questions on gender identity and sexual orientation in the CASEN (a survey used to create public policy) because it is important to make diversities and dissidences visible, to know how they live, what needs they have, to know and recognize them so that the state can effectively reach all people; or the elimination of discriminatory and stigmatizing practices in health care, including reconversion therapies, through new guidelines of the Health Ministry."
"We have other commitments also in labor matters, to protect the right to work of trans people," said Orellana. "There are still many actions to be taken in this work, but we count on the will and commitment of all the ministries."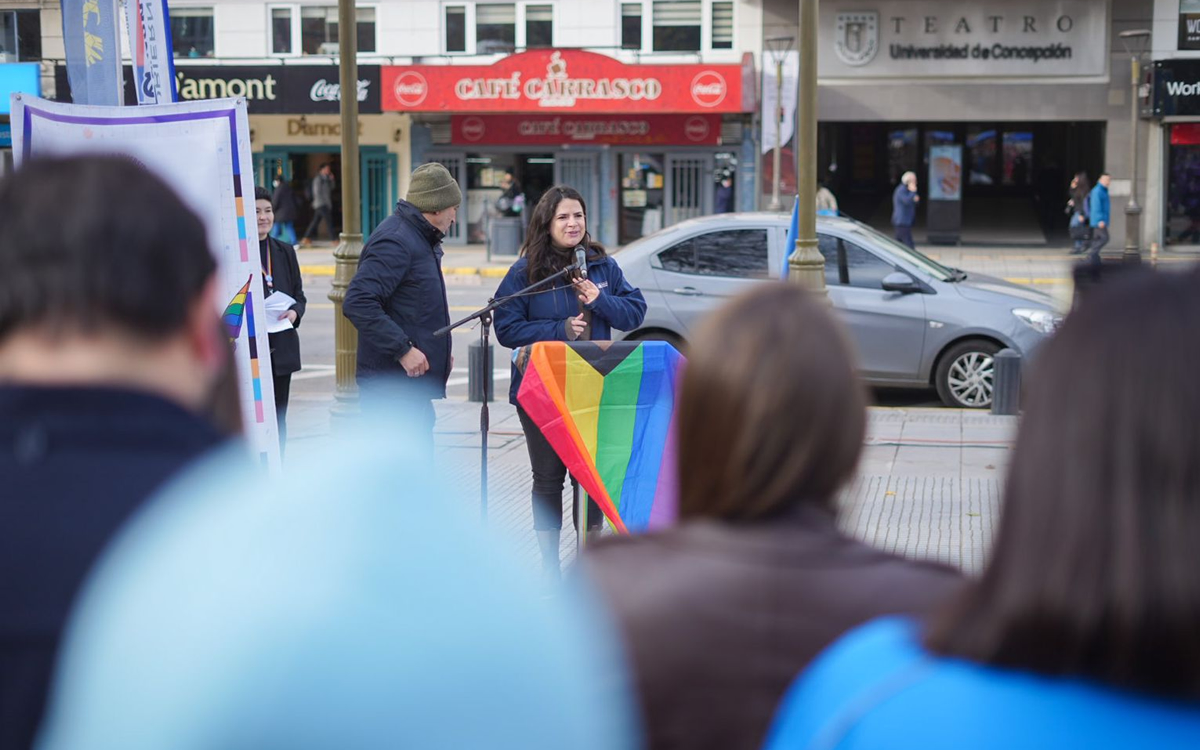 Women and Gender Equality Minister Antonia Orellana speaks at a Pride month event in Concepción, Chile. (Courtesy photo)
This new institutional framework and proposed reforms of the Zamudio Law depend upon Congress. Boric's government has therefore made them a legislative priority.
The post Chilean government says it will strengthen anti-discrimination law first appeared on Washington Blade: LGBTQ News, Politics, LGBTQ Rights, Gay News.
The post Chilean government says it will strengthen anti-discrimination law appeared first on Washington Blade: LGBTQ News, Politics, LGBTQ Rights, Gay News.
Washington Blade: LGBTQ News, Politics, LGBTQ Rights, Gay News