U. S. District Court Judge Thomas L. Parker of the U. S. District Court for the Western District of Tennessee declared Tennessee's anti-drag Adult Entertainment Act to be unconstitutional.
Parker's ruling comes after a two-day trial last month. A Shelby County-based LGBTQ theatre company, Friends of George's, had sued the state of Tennessee, claiming the law unconstitutional under the First Amendment.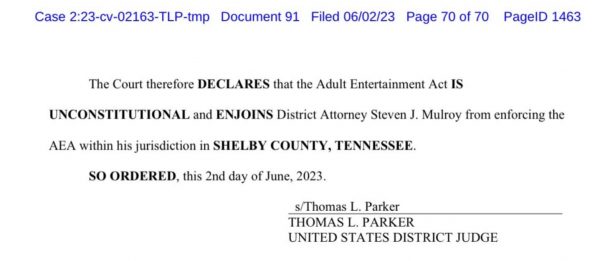 Parker ordered a temporary injunction halting the just enacted Tennessee law that criminalizes some drag performances, hours before it was set to take effect April 1. In his 15 page ruling ordering the temporary injunction Parker wrote:
"If Tennessee wishes to exercise its police power in restricting speech it considers obscene, it must do so within the constraints and framework of the United States Constitution. […] The court finds that, as it stands, the record here suggests that when the legislature passed this statute, it missed the mark."
Attorneys for the theatre company had argued that drag performances were an artform and protected speech under the first amendment.
In his 70 page ruling Friday, Parker wrote:
"After considering the briefs and evidence presented at trial, the court finds that — despite
Tennessee's compelling interest in protecting the psychological and physical wellbeing of
children — the Adult Entertainment Act ("AEA") is an UNCONSTITUTIONAL restriction on
the freedom of speech."
"The court concludes that the AEA is both unconstitutionally vague and substantially
overbroad. The AEA's 'harmful to minors' standard applies to minors of all ages, so it fails to
provide fair notice of what is prohibited, and it encourages discriminatory enforcement. The
AEA is substantially overbroad because it applies to public property or 'anywhere' a minor
could be present."
Read the entire ruling:
Related:
The post Federal judge rules Tenn. drag ban is unconstitutional appeared first on Washington Blade: LGBTQ News, Politics, LGBTQ Rights, Gay News.
Washington Blade: LGBTQ News, Politics, LGBTQ Rights, Gay News