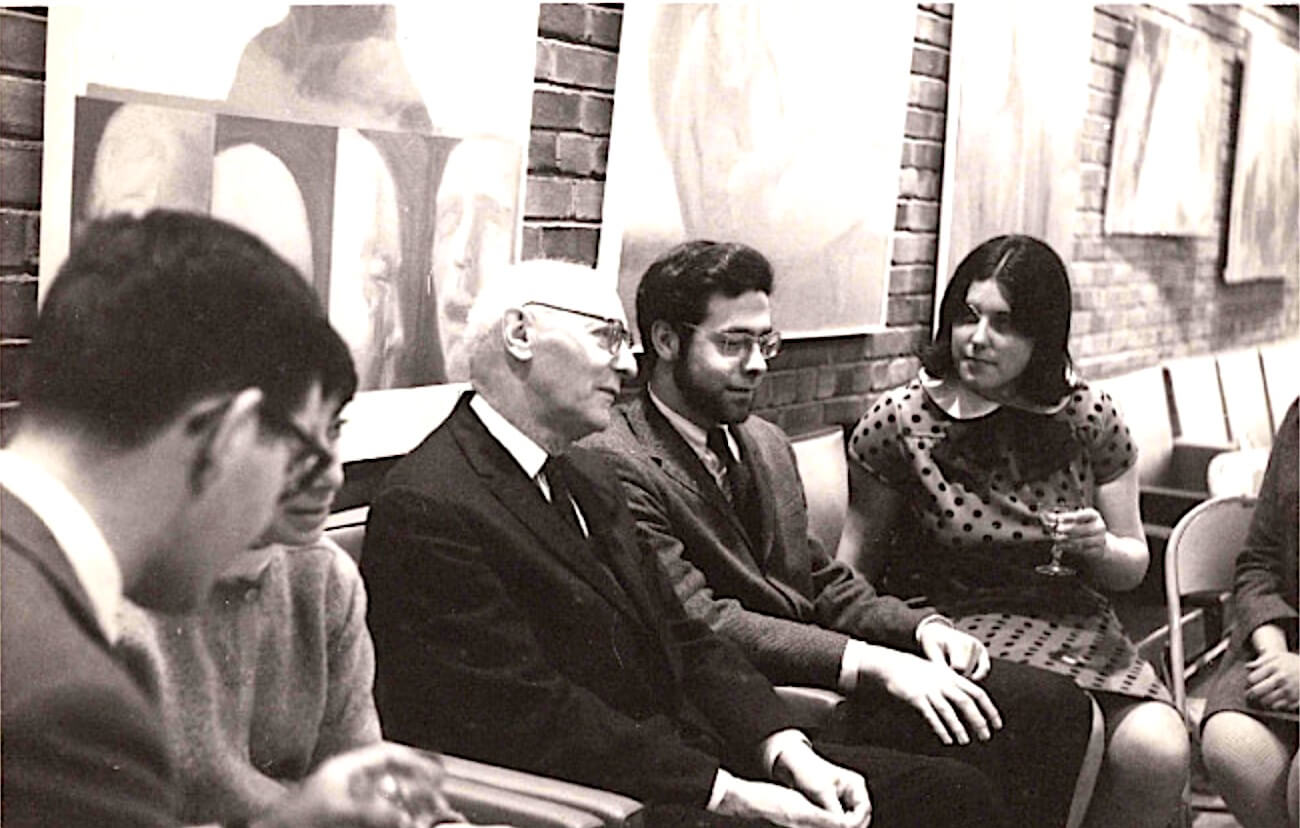 This week marked the official unveiling of a new, freely accessible Yiddish archive composed of previously unpublished teaching materials, scholarship, literature, notes and ephemera from the collections of Yiddish literature scholar David G. Roskies.
All Things Yiddish: The Lerer Roskes Archive is named after the affectionate Yiddish title given to Roskies by his students, Lerer Roskes, or "Teacher" Roskies. Sponsored by the Naomi Foundation, the online launch event was a chance for Roskies, alongside a panel of his peers, to introduce the archive and offer a digital tour of some of its contents. The event was moderated by the executive director of the Naomi Foundation, Lindsey Bodner.
Roskies is the Sol and Evelyn Henkind Chair emeritus in Yiddish Literature and Culture at the Jewish Theological Seminary, and a prominent author, teacher and scholar of Jewish literature for over 50 years. Roskies continues to teach at the Naomi Prawer Kadar International Yiddish Summer Program at Tel Aviv University.
On the panel was Raphael (Raphi) Halff, a student of Roskies' and a current doctoral student in comparative literature at Harvard University. This is Halff's second digitization project after building the Online Treasury of Yiddish Poetry. As he describes it, he painstakingly digitized thousands of items that now comprise the Lerer Roskes collection. The "laborious scanning and preserving … first began as a task to clean out Roskies' office," Halff explained, smiling as he projected picture slides proving the disarray of Roskies' files. "It soon became clear that much more was at stake."
A goldmine
Also on the panel was Miriam Udel, associate professor of Yiddish language, literature and culture at Emory University. Udel studied with Roskies during her time at Harvard and stressed the "inestimable goldmine" and personality of the Lerer Roskies archive. As she describes it, "[this] project presents a life in Yiddish, in all of its dimensions … the archive blurs and troubles the boundary between primary and secondary literature."
The archive website humorously refers to itself as the "Sharing is Caring Archive, where we share things that we have already bothered to care about." However, as Udel reminded the audience, the archive holdings contain published studies on the classic writers of Yiddish literature, accessible teaching notes, irreplaceable memoirs and translations from many different languages. Roskies "has a capacious sense of Jewish language," Udel joked, "that stretches even to include Modern Hebrew."
Third on the panel was Menachem Butler, Judaica bibliographer, editor, and program fellow for Jewish legal studies at Harvard Law School. For the past five years, Butler has curated Roskies' Academia.edu profile, which also contains more free-to-access publications from Roskies' work. Butler described what makes the Lerer Roskies archive so peculiar: "Some of these items lack intrinsic value that under certain circumstances wouldn't even be relegated to a genizah." (The term genizah refers to a repository for timeworn sacred manuscripts and ritual objects.) Butler added, though, that the abundance, accessibility and transparency of the collection offers something completely new for Yiddish studies.
Mistakes and disappointments
Butler presented on how, among the expanse of the archive, there lie specific uncovered treasures, such as the unpublished memoirs of rabbi and scholar Moshe Greenberg during his time in Russia immediately following the dissolution of the Soviet Union, or documents showing the history behind Project Judaica, a joint academic program in Jewish studies of the Jewish Theological Seminary in New York and the National University Kyiv-Mohyla Academy in Ukraine.
Roskies was the last to speak and declared that this archive was the "most eclectic thing [he] had ever done," with a guiding principle of "open-endedness."
The eclecticness, Roskies explains, is due to what Raphi had first told him upon starting digitization: "Let users of this archive know something about the person who put it all together, give them the backstory of growing up in and around Yiddish." For Roskies, this meant showing his life uncensored, including "the mistakes, the false promises, the major disappointments."
The archive is home to countless documents, bilingual editions and crucial studies on the major and classic writers of Yiddish literature, like Mendele Moykher Sforim, Sholem Aleichem, Avrom Sutzkever, Moyshe Kulbak, Isaac Bashevis Singer or Fradl Shtok.
Arriving too late to the party
Roskies stated that this archive is ultimately a reflection on how to live in the so-called  "aftermath." "What does the rebirth of this field after the multiple onslaughts of Hitler, Stalin and wholesale abandonment of Yiddish signify?" he asked.
Earlier in the event, Udel had also reflected on this very same question, offering that many students of Yiddish feel that they're arriving to Yiddish "too late in the party … when it seems like only crumbs are left on the table. But as David showed me, this belatedness was part and parcel of Yiddish secular culture all along."
Importantly, besides the breadth of the Lerer Roskes archive, Udel also reaffirmed that not everything is here. Many Yiddish women writers like Anna Margolin, Celia Dropkin, Kadia Molodowsky and Esther Kreitman "and a great many other writers all await their archives … these are places waiting to be claimed by other scholars and their students, and their students' students. There is room for all us on the dance floor … tu nor a treysl" (just give it a shake).
As the event ended, Roskies reminded the audience that the archive remains open, and anyone is welcome to contribute an item. "Go through your files and scan what is useful for others."
In Jewish fashion, the archive also includes an option to submit a complaint.
The post Yiddish literature scholar David Roskies' extraordinary archive now accessible online appeared first on The Forward.