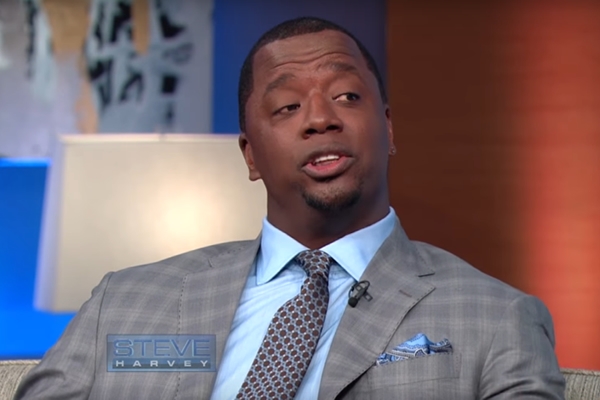 Even casual football fans have heard the rumor about Kordell Stewart, the former Pittsburgh Steelers quarterback who led the team to two AFC championship games.
It started in 1998 and spread quickly in Pittsburgh, without the aid of social media. The rumor was that Stewart was arrested in a park for engaging in "lewd acts" with other men. Of course, it was easily disproven. No arrest record, no statements from the police corroborating the story.
For years after, Stewart endured relentless gossip and jeers from opponents' fans and even Steelers fans who called him "faggot" after a loss. It followed him even after his career ended when his then-wife, Porsha Williams, appeared on Bravo's "Real Housewives of Atlanta." Their divorce became a plot line on the show and the rumor reemerged.
Stewart has broken his silence about "the rumor" in a startling and candid new essay for The Players' Tribune, a site founded by Derek Jeter that offers athletes "a platform to connect directly with their fans, in their own words."
In it, Stewart acknowledges his own past homophobic behavior and offers a refreshing explanation and apology.
"I'm telling you this story today as a 48-year-old man who has learned a lot and has grown a lot," Stewart writes. "I got nothing but love for everybody, no matter what their sexual orientation is. It's great to see how much the world has evolved in the last 20 years. But when this was all happening? Man, you have to understand, I'm a young Black quarterback in a blue-collar town. Being the target of those kinds of rumors? At that time? In that era? In that NFL?"
Stewart claims the team's lawyers traced the rumor to a police officer but that he was afraid to pursue it further as a Black public figure in blue collar Pittsburgh.
The details he reveals in the essay include a crying Coach Bill Cowher calling Stewart to a private meeting to address the rumor, and even a one-on-one with team owner Dan Rooney about the situation.
When Stewart walks into an upscale Pittsburgh steakhouse with a female date, the other diners erupt in applause — a standing ovation because he's out on the town with a woman.
It's an eye-opening read that offers unique insights on homophobia in professional sports. And nearly 25 years after the rumor started, the NFL still doesn't have an openly gay player. Some things have changed, as Stewart notes, but the league — along with professional hockey, baseball, and basketball — has a long way to go to create an environment that is safe and accepting of out gay athletes.
Stewart deserves a thank you from the gay community for his respectful and thoughtful candor.
Kevin Naff is editor of the Washington Blade. Reach him at knaff@washblade.com.
The post Thank you, Kordell Stewart, for thoughtful response to 'the rumor' appeared first on Washington Blade: Gay News, Politics, LGBT Rights.
Washington Blade: Gay News, Politics, LGBT Rights