Advertisements | Advertising at The News And Times - advertising-newsandtimes.com - WE CONNECT!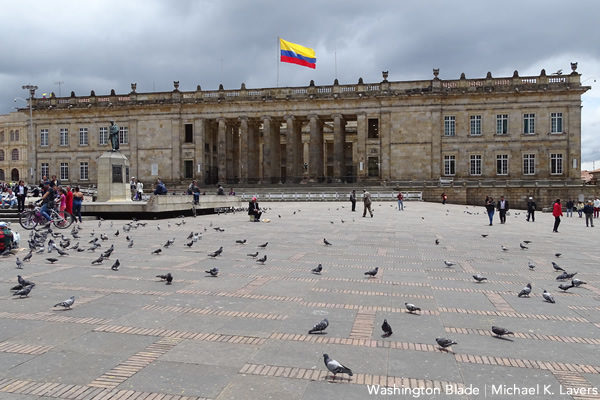 BOGOTÁ, Colombia — El primer Código Penal colombiano fue
el de 1837, inspirado en el napoleónico y sin delito de sodomía. (…) En 1890,
en el contexto de la Regeneración, se expidió un nuevo Código Penal. En el
artículo 419 decía: "La persona que abusare de otra de su mismo sexo, y ésta,
si lo consintiere, siendo púber, sufrirán de tres a seis años de reclusión"
(República de Colombia/Consejo de Estado, 1890:376). La intención inicial fue
castigar al sujeto que realizaba el abuso, pero de darse una manifestación de
aceptación por parte dela víctima, ésta se convertía también en transgresora y
el castigo se aplicaba a los dos.  Ese artículo fue la primera aproximación
para configurar un delito por relaciones homoeróticas consentidas.
(Bustamante Tejada, 2008)
Guillermo
Cortés, psicólogo, también abogado y Víctor Hugo Duque Lemarie lograron los
contactos con quienes discutían el código penal. Manuel Antonio Velandia Mora,
en medio su inocencia jurídica, les preguntó si necesariamente había que
discutir todos los artículos del código penal, la respuesta fue que no
necesariamente, pero que seguramente saldría la discusión. Velandia propuso
que, de ser posible, no los discutieran, pero que en todo ya había la
suficiente argumentación teórica para la defensa. Con esa estrategia que
inicialmente parecía tonta, en 1980 se despenalizó la homosexualidad, por el
Decreto – Ley 100 de 1980 de enero 23, publicado en el Diario Oficial No.
35.461 de 20 de febrero de 1980. (Ministerio de Justicia República de Colombia,
1980) 
Los artículos en mención están en la
Ley 95 de 1936, Titulo XII De los delitos contra la libertad y el honor
sexuales, Capítulo IV:
"De los abusos deshonestos.
  
     Artículo 324. El que ejecute sobre el cuerpo
de una persona mayor de diez y seis años un acto erótico-sexual, diverso del
acceso carnal, empleando cualquiera de los medios previstos en los artículos
319 y 322, está sujeto a la pena de seis meses a dos años de prisión. 
En
la misma sanción incurren los que consumen el acceso carnal homosexual, cualquiera
que sea su edad. 
  
    Artículo 325. La pena señalada en el artículo anterior se
aumentará en una cuarta parte en los casos previstos en el artículo 318 y en el
de contaminación venérea". (Congreso de Colombia, 1936)
Se
logró dejar de ser delincuentes porque no se discutieron los artículos 324 y
325 que penalizaban las actividades homosexuales a cualquier edad. La ley se
promulgó a principios del 81 y empezó a hacerse válida un año después. Cabe
señalar que siguió vigente el Artículo 317. 
"El que
someta a otra persona al acceso carnal, sin su consentimiento y mediante el
empleo de la violencia física o moral, está sujeto a la pena de dos a ocho años
de prisión. 
A la
misma sanción está sujeto el que tenga acceso carnal con un menor de catorce años
de edad, o con persona a la cual haya puesto por cualquier medio en estado de
inconsciencia". (Congreso de Colombia, 1936)
Una vez empieza a ser vigente el Código penal, Velandia propone una serie de acciones, que realiza junto a Jaime Galindo. Algo que ahora se llamaría ARTivismo Queer, en la primera de ellas, cuando llegaba la policía a los bares, ambos salían a la pista a bailar y a besarse en la boca. Cuando la policía los increpaba, sacaban su copia del código penal y afirma que bailar juntos y besarse ya no era delito hacerlo.Por supuesto, los policías ignoraban la ley, pero el convencimiento de los protagonistas los alejaba.
Luego, las acciones se trasladaron a la calle. Velandia y Galindo hicieron lo que sería una performance en vía pública: en el cruce de dos avenidas principales del centro de Bogotá, la carrera 7ª y la calle 19, hacia las 12:30 del mediodía y las 6:00 de la tarde, y por varios días, durante varios minutos ellos se besaban apasionadamente en la boca. Fue muy extraño para ellos descubrir que no había una violencia social explícita, excepto la de algunos homosexuales quienes eran los principales observadores.
The post Cómo los maricas dejamos de ser delincuentes en Colombia appeared first on Washington Blade: Gay News, Politics, LGBT Rights.
Washington Blade: Gay News, Politics, LGBT Rights
Advertisements | Advertising at The News And Times - advertising-newsandtimes.com - WE CONNECT!