Advertisements | Advertising at The News And Times - advertising-newsandtimes.com - WE CONNECT!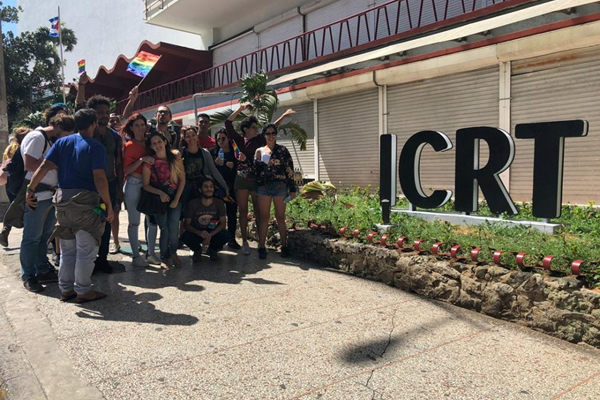 LA HABANA — Tremenda Nota comenzó el 2020 contando la historia de Casa Tomada Mirarte, "la casa de todes en La Habana", un espacio de la comunidad LGBTI+ fundado hace 4 años en Marianao para la promoción de saberes relacionados con la cultura queer y el feminismo.
"La conga silenciada. ¿Quién cuenta las historias
LGBTI+ en Cuba?" fue nuestro
seguimiento informativo a exigencias de la comunidad LGBTI+ cubana, tales como
el matrimonio igualitario, la reforma del Código de Familia, la necesidad de
una ley contra la discriminación y otra de identidad de género, así como la
demanda de derechos como la reunión, la manifestación pacífica y la asociación.
En 2020 fue noticia la censura de un beso gay en televisión y la posterior movilización de la comunidad LGBTI+. Se trató de la película estadounidense "Love Simon" cuya escena final fue eliminada en el programa Pensando en 3D. Varios activistas hicieron un llamado en redes para realizar una besada pública frente al Instituto Cubano de Radio y Televisión (ICRT). Como consecuencia, la Televisión Cubana ofreció disculpas en las redes sociales.
El ICRT motivó
otra polémica cuando se conoció, a mediados de año, que una de sus funcionarias
había hecho juicios y recomendaciones homofóbicas en una reunión de trabajo.
Yusimí González Herrera llamó "platinadas" a las voces de personas
LGBTI+ y recomendó que no fueran usadas en programas de radio. Estas
declaraciones provocaron el rechazo de miles de usuarios en las redes sociales.
Por su parte, la comunidad trans se organizó en Cuba ante la epidemia del COVID-19. Dos proyectos, uno en Matanzas y otro en La Habana, asistieron a personas y familias trans. Lograron llegar en menos de 30 días a más de 170 hogares.
No se hicieron esperar las celebraciones y polémicas en torno al primer aniversario de la marcha del 11 de mayo de 2019.  Ese día cientos de personas se manifestaron en La Habana para protestar por la cancelación del desfile anual organizado por el Centro Nacional de Educación Sexual (Cenesex). En ese momento, el gobierno reaccionó con violencia y disolvió la marcha con fuerzas policiales que arrestaron a activistas y otros participantes.
Tras el
acontecimiento se articuló 11M, la principal plataforma coordinadora de la
lucha LGBTI+ en Cuba. Este grupo conmemoró con un foro online organizado desde
La Habana lo que se denominó Día del Movimiento LGBTI+ cubano. Después de esta
primera celebración, 11M promueve un tuitazo el 11 de cada mes. A finales de año, los
activistas pidieron al gobierno que frene la campaña de odio emprendida por
varias iglesias cristianas.
Una de las
mayores polémicas en torno al activismo
LGBTI+ en Cuba, fue protagonizada por Mariela Castro Espín, directora del Cenesex y
diputada al parlamento cubano, cuando declaró que los campos de trabajo forzado
para homosexuales en Cuba habían sido sobredimensionados. Las declaraciones
aparecieron en una entrevista realizada por el influencer Edmundo García.
Posteriormente,
Mariela provocó otra polémica cuando inauguró en
línea la jornada anual contra la homofobia y la transfobia que organiza Cenesex
desde 2008. En esta ocasión calificó de "baratijas" y
"garrapatillas" a quienes hacen activismo fuera de las instituciones
estatales en Cuba.
Pero el galardón
de las declaraciones polémicas lo conquistó la rapera Danay Suárez, al traer a
Cuba un debate inspirado por el
fundamentalismo cristiano. La artista, conocida por su discurso contra el aborto
en el festival Viña del Mar 2017, compartió el 13 de junio un post en el que
relacionó la lucha por los derechos LGBTI+ con la agenda de presuntos grupos
pedófilos.
Un grupo de
artistas e intelectuales cubanos publicó una declaración de solidaridad con la
comunidad LGBTIQ+ a raíz de la polémica provocada por Suárez, donde reafirmaron
su postura respecto al
referendo del matrimonio igualitario.
Danay Suárez compareció el 16 de
octubre ante un tribunal de La Habana. El incidente provocó un debate en Cuba respecto a los
discursos de odio. Finalmente, la querella contra la rapera fue desestimada
por los jueces.
En 2020 abundaron los enfrentamientos entre la comunidad LGBTI+ y el Instituto Cubano de Radio y Televisión (ICRT). Como si no bastara con la censura del beso gay, otro programa de televisión también recibió fuertes críticas por usar conceptos desactualizados sobre un personaje trans en un capítulo de la teleserie "De amores y de esperanzas", que se consideró desinformador y poco verosímil por activistas transgénero.
La Constitución de 2019 no dejó de ser noticia. "Triejas, una opción (inesperada) que la Constitución de 2019 dejó abierta en Cuba" fue un artículo de Tremenda Nota que analizó una ambigüedad del texto constitucional.
"La gente homosexual tiene derecho a estar en una familia. Son hijos de Dios y tienen derecho a una familia. Nadie debería ser expulsado o sentirse miserable por ello", dijo el papa Francisco en un documental el pasado año, en contraste con el conservadurismo de la iglesia cubana, informó también Tremenda Nota.
Esta fue una buena noticia en medio de un año en el que abundaron las declaraciones homfóbicas y transfóbicas, incluso de personas mediáticas como el reguetonero Jorge Junior, director del grupo Los 4, que inundó las redes sociales con insultos homofóbicos para el influencer Alexander Otaola a raíz de haber sido incluido en una "lista roja" que pretende impedir la entrada a Estados Unidos a personalidades calificadas de "comunistas".
Varios activistas
celebraron este 11 de octubre el Día para salir del clóset. El Coming Out Day, como
fue nombrado en Estados Unidos, donde surgió el evento, promueve la visibilidad
de las personas LGBTI+ y llama la atención sobre una de las exigencias más
arraigadas de la homofobia, la lesbofobia y la transfobia: el silencio.
Los colectivos LGBTI+ también se pronunciaron a fines de año sobre la crisis política provocada en Cuba
por la huelga de hambre del Movimiento San Isidro, un grupo de activistas disidentes,
y la manifestación realizada el pasado 27 de noviembre frente al Ministerio de
Cultura, cuando cientos de personas demandaron al gobierno que se respeten los
derechos de los artistas y de la ciudadanía.
Por su parte, el
Proyecto Abriendo Brechas de Colores (ABC) estrenó recientemente la campaña "Cristo ama mis colores".  Este colectivo de activistas fundado en la ciudad
de Matanzas propuso una campaña contra la violencia espiritual y el
fundamentalismo anti LGBTI+.
Tremenda Nota indagó también sobre la intersexualidad y las particularidades de esa comunidad en Cuba. Publicó además una crónica respecto a los lugares de encuentro sexual gay en La Habana.
La revista
informó respecto a las personas trans que han sido
asesinadas durante 2020 en el mundo, según cifras obtenidas por el Proyecto
Transrespeto versus Transfobia en el Mundo (TvT) y publicadas en un informe
actualizado este 20 de noviembre con motivo del Día de la Memoria Trans.
También cubrimos la legalización en Costa Rica del matrimonio entre
personas del mismo sexo, la única nación de América Central que lo ha hecho
hasta el momento. El matrimonio igualitario es un derecho reconocido por más
países, aunque dos tercios de los que lo permiten se encuentran en Europa
Occidental.
The post Cuba: ¿Qué pasó en 2020 con la comunidad LGBTQ? appeared first on Washington Blade: Gay News, Politics, LGBT Rights.
Washington Blade: Gay News, Politics, LGBT Rights
Advertisements | Advertising at The News And Times - advertising-newsandtimes.com - WE CONNECT!