Advertisements | Advertising at The News And Times - advertising-newsandtimes.com - WE CONNECT!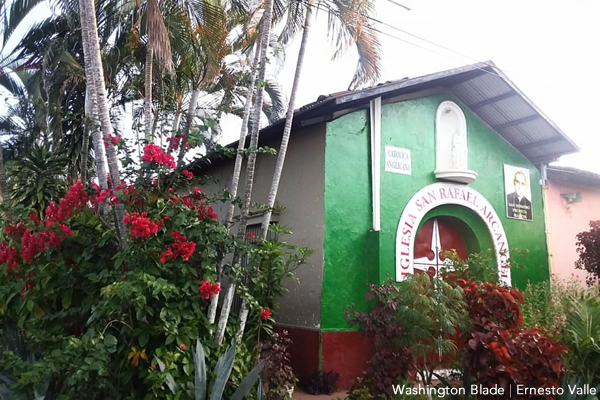 SANTA ANA, El Salvador – La Iglesia Episcopal Anglicana de El Salvador (IAES) siempre se ha caracterizado por ser una iglesia inclusiva y de puertas abiertas, desde la creación del Ministerio de Diversidad Sexual en el año 2009, el cual es una pastoral que reúne tanto a personas LGBTQ como también aliados de la misma comunidad, volviéndose un espacio en el que todas y todos pueden vivir su fe, libres de discriminación. Ahora la IAES comienza una nueva Pastoral de la Solidaridad en Santa Ana, llamada Comunidad Santa Marta, la cual tiene como objetivo brindar refugio, acompañamiento personal y pastoral, a personas LGBTQ que han sido expulsadas de sus hogares o se han visto forzadas a realizar migración interna.
En su experiencia pastoral, la
IAES ha conocido las realidades que enfrentan las personas LGBTQ, que por
motivo de su orientación sexual, identidad y expresión de género son
discriminadas en todos los ámbitos de su vida, dando inicio a una cadena de
exclusión desde sus hogares y afectando su desarrollo pleno. Es así como desde
la oficina diocesana Dignidad y Justicia, crean este proyecto; pues dicha
oficina tiene como objetivo principal, generar condiciones de prevención de la
exclusión social, para el acceso a los derechos humanos, disminuyendo la
violencia social y migración de las familias en la creación de comunidades de
fe con tejido social.
"Trabajar en un proyecto como 'Santa Marta o Pastoral de solidaridad', es responder a las necesidades humanas, especialmente cuando hay tanta injusticia, pobreza y desigualdad", expresó al Washington Blade el obispo de la IAES, Rvdmo. Juan David Alvarado.
"Queremos dar una respuesta a las personas LGBT que han sido expulsadas de sus hogares o que se encuentran en peligro, ofreciéndoles un espacio temporal, mientras ellas buscan solución o desarrollan un plan de respuesta personal", agrega el obispo. "El nombre de Comunidad Santa Marta es recordar en el Evangelio cuando Jesús va en camino y llega a la casa de Marta y María, hermanas y amigas de Jesús, quienes dan acogida y acompañamiento".
La IAES tiene muchas expectativas de este proyecto,
pues siempre se han mostrado aliados de la sociedad civil y en sobre todo de
las poblaciones históricamente excluidas y vulnerables, el coordinador de la
oficina de Dignidad y Justicia dentro de la IAES, Edwin Guardado, expresa que
la "ilusión" con este proyecto es que la iglesia sea un modelo de atención y
acompañamiento pastoral en el tema de refugios a personas LGBTQ en condiciones
de vulneración de derechos humanos.
"El que la Iglesia cuente con la experiencia del
Ministerio de Diversidad Sexual, es clave para el impulso de la Comunidad de
acogida Santa Marta, que estará ubicada en el departamento de Santa Ana, en la
Iglesia San Rafael Arcángel, en donde el Rvdo. Germán López es su rector",
menciona al Blade Guardado.  
"La IAES, al acoger en su misión pastoral, el trabajo
con población LGBTI, no solo cumple con el básico de nuestras sociedades
contemporáneas que es no discriminar, sino cumple con el mandato de nuestro
señor Jesucristo", expresó Guardado.
Se pretende que en este refugio, las
personas se resguarden en las instalaciones hasta un máximo de 15 días, en los
cuales se establecerá una rutina de vida para ellas y ellos, se les proveerá de
alimentación y servicios básicos durante ese tiempo. Recibirán el apoyo
necesario para la búsqueda de reinstalación con sus redes de apoyo social o
familiar.
"Se espera a mediano plazo, con
el seguimiento que se le pueda dar, poder apoyarles ya sea a terminar estudios con
alguna modalidad flexible del Ministerio de Educación, también a desarrollar
habilidad en términos de emprendimiento en alianzas con diferentes
instituciones u organizaciones LGBTI", declaró al Blade Cruz Torres,
coordinador del Ministerio de Diversidad Sexual de la IAES.
Torres agrega que esperan que el
Ministerio de Diversidad Sexual abra un capítulo con las personas que reciban
en la Comunidad Santa Marta y ayudar también con el acompañamiento pastoral de
las mismas.  
La IAES en una alianza con
Cristosal, organización para la defensa de los derechos humanos, buscará la
transferencia de conocimientos y experiencia en el tema de protocolos de
atención psicosocial, jurídica, protocolos sobre estudio de casos, esto con el
fin de capacitar al grupo diocesano que estará a cargo de las gestiones y
planificaciones para la ejecución de la pastoral.
Con este proyecto la IAES deja de
manifiesto el cumplimiento de su misión.
"No comprendo a las iglesias que se llaman cristianas, con una posición muy cerrada sobre el tema de la población LGBTI, porque el Evangelio de Jesús nos invita a anunciar la buena nueva, que es la instauración del Reino de Jesús y ese Reino es justicia, paz, amor y verdad", expresó Alvarado. "En otras palabras el Evangelio es construir una humanidad más justa, con equidad, donde los valores nos lleven a una paz integral".
Finalmente, Alvarado externa que las iglesias que condenan a las personas LGBTQ no están construyendo el Reino de Dios, "posiblemente están construyendo su propio reino". Por lo que hace un llamado a que todas y todos deben formarse o educarse en el tema, para comenzar a fomentar el amor en lugar del odio.
The post Iglesia Episcopal Anglicana de El Salvador busca dar refugio a personas LGBTQ appeared first on Washington Blade: Gay News, Politics, LGBT Rights.
Washington Blade: Gay News, Politics, LGBT Rights
Advertisements | Advertising at The News And Times - advertising-newsandtimes.com - WE CONNECT!