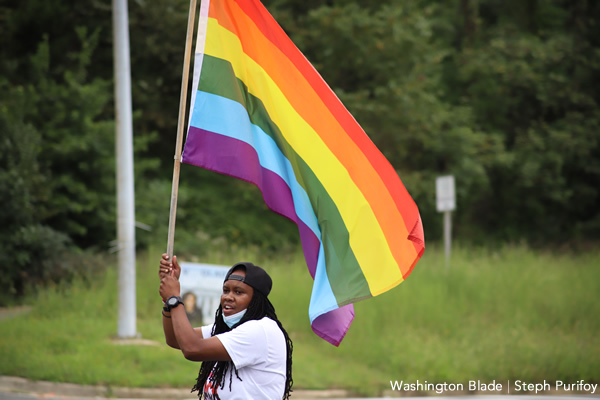 A group of LGBTQ and Black Lives Matter activists gathered outside of the Prince George's County Police Department's District Seven station in Fort Washington on Saturday to demand the removal of an officer who allegedly pushed an LGBTQ organizer at another event last week.
Cassy Morris, director and co-founder of the LGBTQ Dignity Project, said she was attending a rally at 1701 Ritchie Station Ct. in Capitol Heights on Sept. 7 when Lt. Victor Dobro approached her. According to Morris, he asked her if she was an organizer for the protest and then insisted that he wanted to make sure the gathering would be peaceful. 
Morris said she felt Dobro racially profiled her and approached her with unnecessary aggression. She told him that she did not appreciate his tone and that she was going to take a photo of him to record his badge number. That is when Dobro allegedly walked up to her and shoved her. 
"I was frightened. I was shocked. I was angry," Morris told the Washington Blade. "I threw away my phone and wallet because I didn't want them to say they saw me with something in my hand and thought it was a gun. Honestly in my head, I thought I was going to die."
Morris told the Blade she met with officers with the department's Internal Affairs Division on Sept. 11. Morris also provided the Blade with her case number and said a detective is investigating the alleged incident.
A spokesperson for the Prince George's County Police Department confirmed the department is aware of Morris' allegations and has opened an internal investigation into the incident. The spokesperson declined to provide any further details, calling the matter "confidential."
The spokesperson on Monday told the Blade "with regards to Lt. Dobro, due to Maryland Personnel Law we are unable to provide you reports that are part of an Internal Affairs investigation."
Department needs 'to weed out the bad officers early'
The protesters gathered outside the police station on Saturday and then moved to the corner of Indian Head Highway where they chanted and gave speeches. 
Krystal Oriadha, Morris' wife, said they were demanding Dobro's removal before he hurts someone else. 
"When you see all these early warning signs of behavior, that's when you need to fire someone. You shouldn't wait until an officer kills or seriously injures someone," she said. "They need to weed out the bad officers early, and that's how they're going to save people's lives."
The LGBTQ Dignity Project is a nonprofit advocacy group formed by Morris and her wife Oriadha to advocate and provide support for the LGBTQ community in Prince George's County. 
Ruby Corado, founder and executive director of Casa Ruby in D.C., spoke at the protest about the oppression that LGBTQ people of color in Prince George's County still face.
"There are dozens of trans women who are bullied or are abused by the PG County Police Department with zero accountability," she said during her speech, directing her words to the several officers standing to the side of the protesters. "As we stand here, we're not just here for ourselves. We're here to send a message to the police department that enough is enough. [LGBTQ] people must have equality in this county."
Morris said the Sept. 10 incident is indicative of a bigger problem with the Prince George's County Police Department. She said she knows many people of color, including those in the LGBTQ community, who will not call the police in moments of crisis because they are scared of how officers might treat them. 
"Even though I wasn't killed or injured, what happened to me on Monday [Sept. 10] proves that there are police officers that will actually harm you if you just ask them a simple question," she said.
The post LGBTQ, Black Lives Matter activists protest alleged police brutality in PG County appeared first on Washington Blade: Gay News, Politics, LGBT Rights.
Washington Blade: Gay News, Politics, LGBT Rights