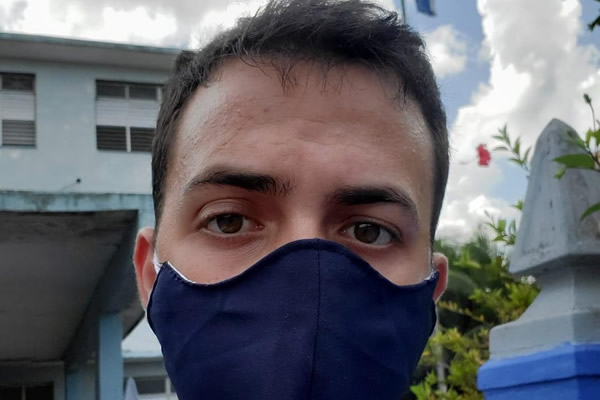 An LGBTQ
activist and journalist in Cuba says authorities on Wednesday threatened to
arrest him.
Jancel
Moreno, who contributes to ADN
Cuba, an independent website, in a Facebook post
said he arrived at a police station in Matanzas, a city on the island's
northern coast that is roughly 60 miles east of Havana, at around 2 p.m. after
he received an order to do on Tuesday.
Moreno wrote
a major with Cuba's National Revolutionary Police showed him a file with
"more than 40 publications from my profile, also telling me that I am a
follower of" José Daniel Ferrer, head of the Patriotic Union of Cuba
(UNPACU), and other opposition figures.
"It
was really impossible to enter into a debate, because neither he will change
his position, nor will I," wrote Moreno.
Moreno
said the major told him he summoned him to the police station "to alert me
that I can face four charges for his publications." These include
"enemy propaganda" and "disrespect (specifically because of my
way of not showing respect for authorities, Mariela Castro's name comes out
…)"
Mariela
Castro is the daughter of former Cuban President Raúl Castro who spearheads
LGBTQ-specific issues in Cuba as director of the National Center for Sexual
Education. Mariela Castro is also a member of Cuba's National Assembly.
Cubans on
Sept. 8 honor the country's patron saint, the Virgin of Charity of Cobre.
Moreno
publicly criticized Mariela Castro after she evoked her to defend the 1959
Cuban revolution that brought her uncle, Fidel Castro, to power. Moreno in his
Facebook post wrote the file he saw at the police station had copies of his
public criticisms of Mariela Castro, including a hashtag that mocked her.
Moreno
said the mayor also told him he could face charges of "incitement to
commit a crime (because I supported women who entered military officers' houses
last Saturday)" and "spreading a pandemic" that he concedes
"is not very clear to me." Moreno wrote he could face between 3-4
years in prison "for simply publishing on social media networks."  
Moreno on
Wednesday night told the Washington Blade that he is at his home and safe.
Former partner asked for asylum in the Netherlands
Moreno,
21, is the latest in a series of independent LGBTQ activists and journalists
who the Cuban government has targeted.
Leandro
Rodríguez García and his mother, Tanya García Hernández, say a state security
official on Sept. 11 threatened them at their home in Villa Clara province in
Central Cuba.
A judge
last September granted asylum to Yariel Valdés González, a Blade contributor
who faced persecution in Cuba because of his work as an independent journalist.
The Cuban
government on May 8, 2019, detained this reporter for several hours at Havana's
José Martí International Airport after he tried to enter the country. Authorities
three days later arrested
several people during an unsanctioned LGBTQ rights march that took place near
the Cuban Capitol in Havana.
Dayana
Mena López, a transgender woman of African descent who is from Villa Clara
province, fled Cuba in December 2018 because of persecution she said she
suffered because of her gender identity and her opposition to the Cuban
government. She won asylum in the U.S. in August 2019 and she now lives in
Jacksonville, Fla.
Yanelkys
Moreno Agramonte and her girlfriend, Dayana Rodríguez González, suffered harassment
and discrimination in the small town in Central Cuba where they lived because
they are lesbians. The two women asked for asylum in the U.S. last November,
and an immigration judge on Monday ruled
in Moreno's favor.
Jancel Moreno's
former partner, Victor Manuel Dueñas, asked
for asylum in the Netherlands in 2018. Dueñas said authorities threatened
him when he publicly questioned police mistreatment of LGBTQ people in
Cárdenas, a city adjacent to Matanzas.
Rodríguez and Maykel González Vivero, director of Tremenda Nota, the Blade's media partner in Cuba, are among those who the Cuban government has prevented from leaving the country.
The post Cuban authorities threaten to arrest LGBTQ activist, journalist appeared first on Washington Blade: Gay News, Politics, LGBT Rights.
Washington Blade: Gay News, Politics, LGBT Rights